Files > 10 MB can be uploaded
Fixed the problem of "googlemail. com" domain. Now, googlemail.com users can also upload and download files.
Fixed the problem of "archiving". So, it picks the emails/files that are archived also.
Fixed the problem with "NoScript" extension. * Now, harmful extensions like ".exe, .dll, .zip" can also be uploaded.
Uploading very big files > 100 MB is not recommended.

Make sure that you have enough space in your directory while uploading large files (this extension creates a copy of the large file in the directory)

Be gentle with the program. Do not upload or download many files in a single day. You may get your account disabled for 24 hours. It happens when you upload or download more than 2 GB in a single day (I believe so).
What to do?


After installation, click on "GSpace" from the "Tools" menu. A new tab will be opened with GSpace window.
Give your user name and password to login. The remote view will be empty until you login. Once you login into the system, the remote view should say "gs:/" in the textbox.
If you are logging in for the first time, the remote view will be empty as there are no files uploaded yet.
So, select a folder or file you wish to add and click the "Upload/Right" arrow. That's all your files are uploaded. Similarly, the files or folder can be downloaded.
There is a button called "Filter" which filters the files based on the filesize. When enabled, it shows only the files less than 10 MB as the max attachment size is 10 MB in gmail. All other buttons are pretty straightforward. Tooltips on each button show its description.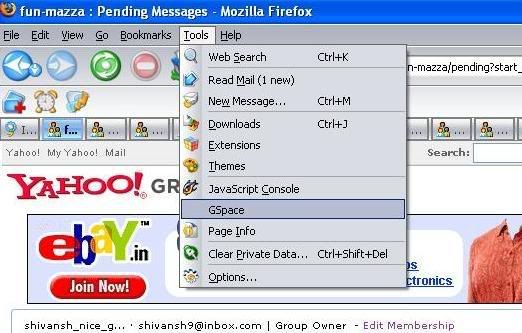 ---
Get your email and more, right on the
new Yahoo.com
__._,_.___
Note: This Group is not a Job Searching Group, so please co-operate and dont transfer any kind of job related material across this Group.AnyOne doing so can be banned from the Group
Thanx , Group Co-Ordinators
Change settings via the Web
(Yahoo! ID required)
Change settings via email:
Switch delivery to Daily Digest
|
Switch format to Traditional
Visit Your Group
|
Yahoo! Groups Terms of Use
|
Unsubscribe
SPONSORED LINKS
Yahoo! Mail
With the all-new
Yahoo! Mail Beta
Y! Messenger
Share photos while
you IM friends.
Search Ads
List your web site
in Yahoo! Search.
.
__,_._,___